The cottage Rowan berry / Jeřabina
We prefer orders for accommodation directly through the web or Czech accommodation servers. For visitors who would like to stay through Booking, we recommend contacting us directly through our website. The price for accommodation will then be significantly cheaper for you .....
Come to the Ore Mountains to enjoy an undisturbed holiday. Our historic half-timbered cottage Jeřabina in the renaissance mining town of Horní Blatná is perfect for relaxation and rest.
Old-style accommodation in the heart of the western Ore Mountains.
A region of beautiful nature, historical monuments, old mines and silence ...
A region with a centuries-old mining tradition, the mining landscape of Abertamy - Boží Dar - Horní Blatná is newly registered in UNESCO.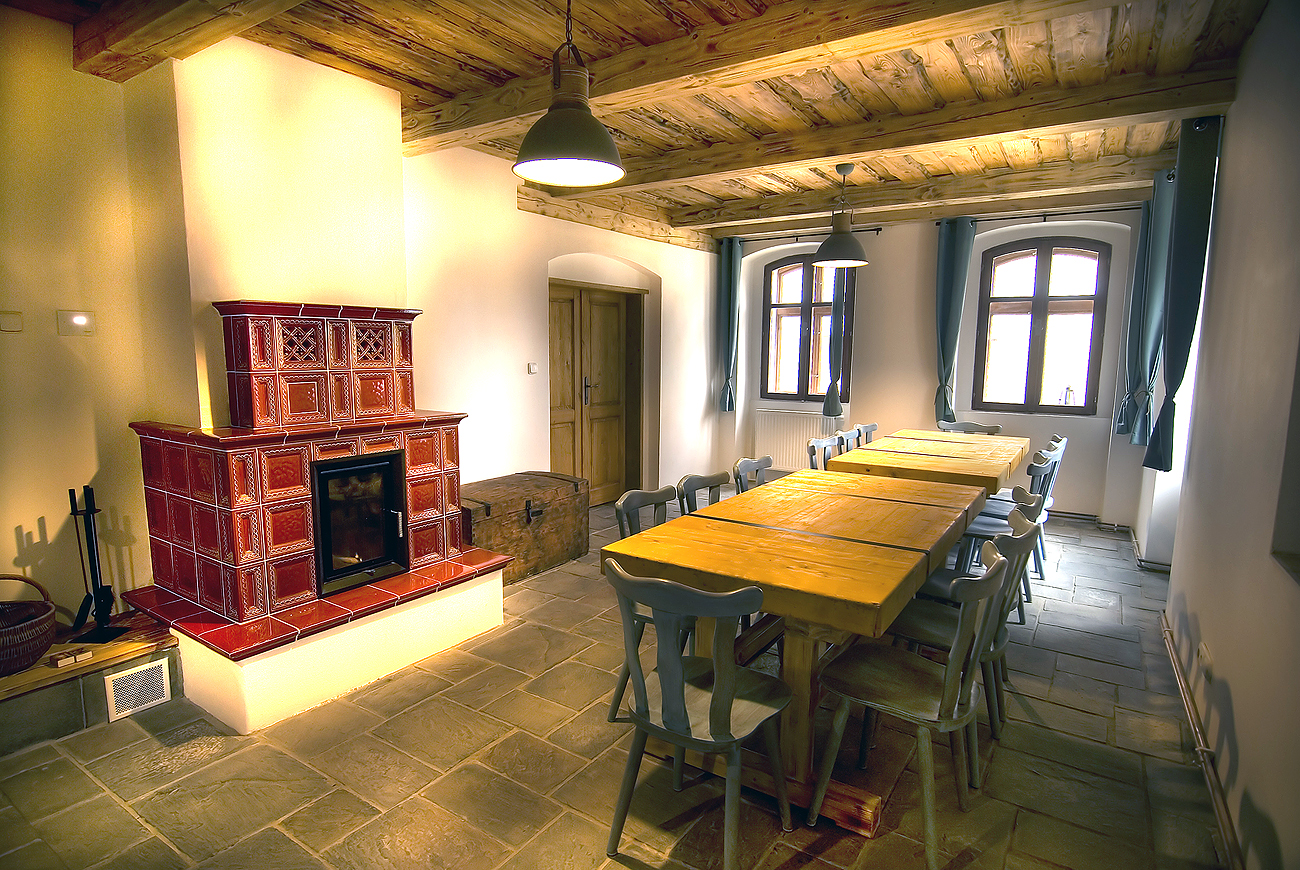 Living room
Holidays at the mountain cottage Jeřabina will take you back to the old and unhurried time of our grandmothers.
The half-timbered house is after a complete and demanding reconstruction of the interiors, the main living room of our half-timbered house is dominated by a fireplace stove with a large glazed fireplace insert, from which the radiant heat will make your evening more pleasant. The final reconstruction of the facade awaits us in 2022.
The cottage is located in the center of the historic Renaissance town of Horní Blatná, in the Ore Mountains, founded in 1532 on rich deposits of tin and silver ores. It lies surrounded by mountain meadows and forests below Blatenský vrch (1041 m above sea level).
Krušné hory - Ore Mountains

it is also a lot of blueberries or forests full of mushrooms ... quartzites, mushrooms, crutches, Cossacks, foxes ....
Golden grass frosted by the first frosts, twisted rowans, so typical for this region ... Beech forests on the slopes of the mountains on the Czech side creating a magical atmosphere in the autumn mists .... which is so well known to photographers who keep coming back here .....
Light morning haze on mountain meadows and endless inversion of clouds on the Czech side of the mountains, bathed in the mountain sun, well observable from several places in the area, such as Neklid ...
If you are a good observer of the landscape, you will learn to read it, you will discover old entrance roads, water canals built by old miners, some of which, such as the Blatenský moat, bring water to Horní Blatná to this day. You will discover the dips of the old mines, you will find the dumps of the morning and midnight galleries, or you will see centuries-old sewers along the streams of tin panning, now overgrown with heather ...
welcome to our region ...... Martin and Gabriela